This Contested Land: The Storied Past and Uncertain Future of America's National Monuments 
by McKenzie Long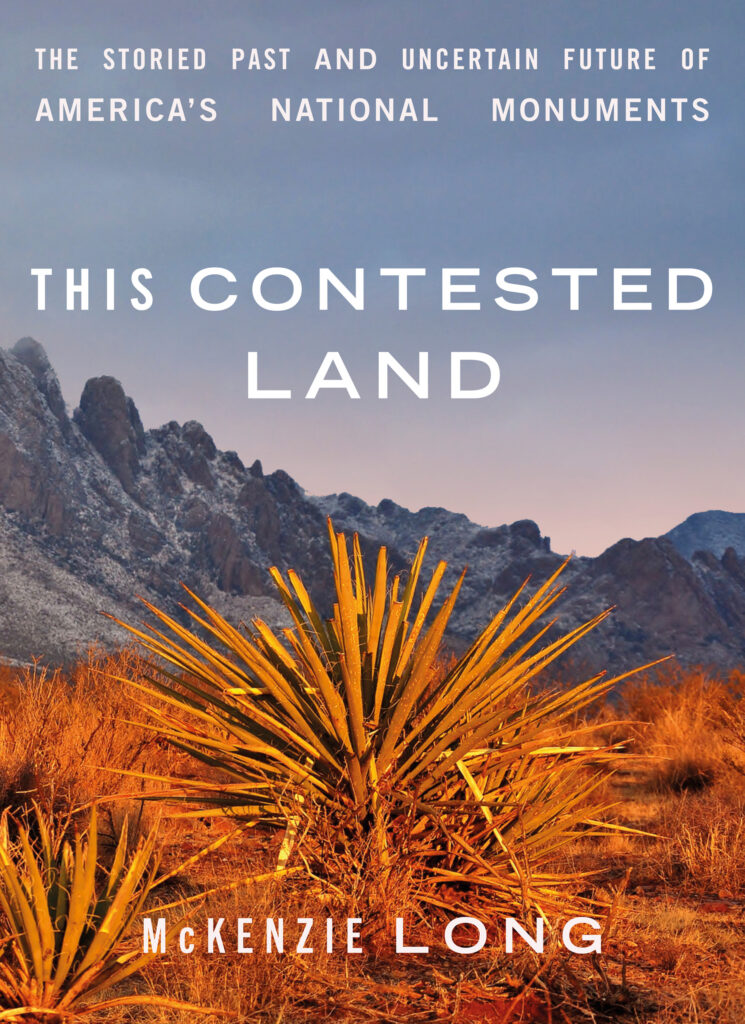 This land is your land. When it comes to national monuments, the sentiment could hardly be more fraught. Gold Butte in Nevada, Organ Mountains–Desert Peaks in New Mexico, Katahdin Woods and Waters in Maine, Cascade–Siskiyou in Oregon and California: these are among the thirteen natural sites McKenzie Long visits in This Contested Land, an eye-opening exploration of the stories these national monuments tell, the passions they stir, and the controversies surrounding them today.
Starting amid the fragrant sagebrush and red dirt of Bears Ears National Monument on the eve of the Trump Administration's decision to reduce the site by 85 percent, Long climbs sandstone cliffs, is awed by Ancestral Pueblo cliff dwellings and is intrigued by 4,000-year-old petroglyphs. She hikes through remote pink canyons recently removed from the boundary of Grand Staircase–Escalante, skis to a backcountry hut in Maine to view a truly dark night sky, snorkels in warm Hawaiian waters to plumb the meaning of marine preserves, volunteers near the most contaminated nuclear site in the United States, and witnesses firsthand the diverse forms of devotion evoked by the Rio Grande. In essays both contemplative and resonant, This Contested Land confronts an unjust past and imagines a collaborative future that bears witness to these regions' enduring Indigenous connections.
From hazardous climate change realities to volatile tensions between economic development and environmental conservation, practical and philosophical issues arise as Long seeks the complicated and often overlooked—or suppressed—stories of these incomparable places. Her journey, mindfully undertaken and movingly described, emphasizes in clear and urgent terms the unique significance of, and grave threats to, these contested lands.
Available for purchase from University of Minnesota Press | IndieBound | Amazon