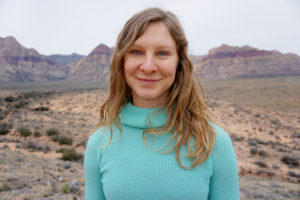 McKenzie Long is a writer, graphic designer, and rock climber living in the Sierra Nevada.
McKenzie has been writing about the outdoors in different capacities for most of her career. She wrote gear reviews for the website OutdoorGearLab.com for six years, starting with the company before the website officially launched and eventually working as a managing editor responsible for hiring, editing, and product selection as well as content creation.
She has co-written two climbing guidebooks. For Supertopo's second edition of High Sierra Climbing, McKenzie took over the title, explored and added new routes, rewrote, and redesigned the book. McKenzie is now taking this penchant for writing about place to its next evolution: rather than a guidebook or a gear review focused on helping visitors or consumers, explores the human relationship to land and the ways that relationship effects the future. Her book This Contested Land: the storied history and uncertain future of America's National Monuments was published by University of Minnesota Press October 2022.
McKenzie won first place in Nowhere Magazine's 2018 "This Land is…" contest, was named the 2019 Terry Tempest Williams Fellow for Land and Justice at the Mesa Refuge, and was selected for AWP's 2020 Writer to Writer mentorship program where she worked with and learned from New York Times Bestselling author Kathryn Aalto.